Whether you want to become an influencer or you have a product to promote, you need to manage your personal Facebook profile properly, especially when dealing with friend requests. You wouldn't want to have a friend on Facebook you don't know who would later turn out to be a negative aspect of your profile who causes issues and confrontations. No matter what your goal is, you want your Facebook profile to be as engaged as possible in your account, and adding the right people is the key.
IMAGE: Friend request. Photo was taken from Business Insider
In this post, I will teach you how to deal with friend requests. While the points seem to be a lot for a single friend request, they actually just take a minute or two on your part. They depend mostly on your judgment though, but it will benefit your overall Facebook marketing goal if you follow them. 
Tips in dealing with friend requests
The first thing you should do is to figure out why you need to build a presence on Facebook, and how you will use your personal Facebook account in achieving this goal. Will you even use your personal Facebook account? If you intend it to be for your family and close friends only, then you'd want to change your settings to "only friends." 
However, if you want to open your Facebook profile and use it to market and promote your brand, here are some tips.
Don't accept all friend requests

: In real life, you don't immediately give out your name, phone number, and address to a random stranger who smiles at you. In the same way, you should not accept all friend requests because there are really people who can spoil your brand. 
You shouldn't accept a friend request just because they are a friend of a friend either. There are accounts that can have your Facebook profile shut down by reporting it just because of jealousy or some other petty reasons.  
Check the content of the potential "friend:"

What type of content does the person post? Do their profile even have posts or do they seem human at all? Accept the friend request only if you find their content authentic, inspiring, and interesting.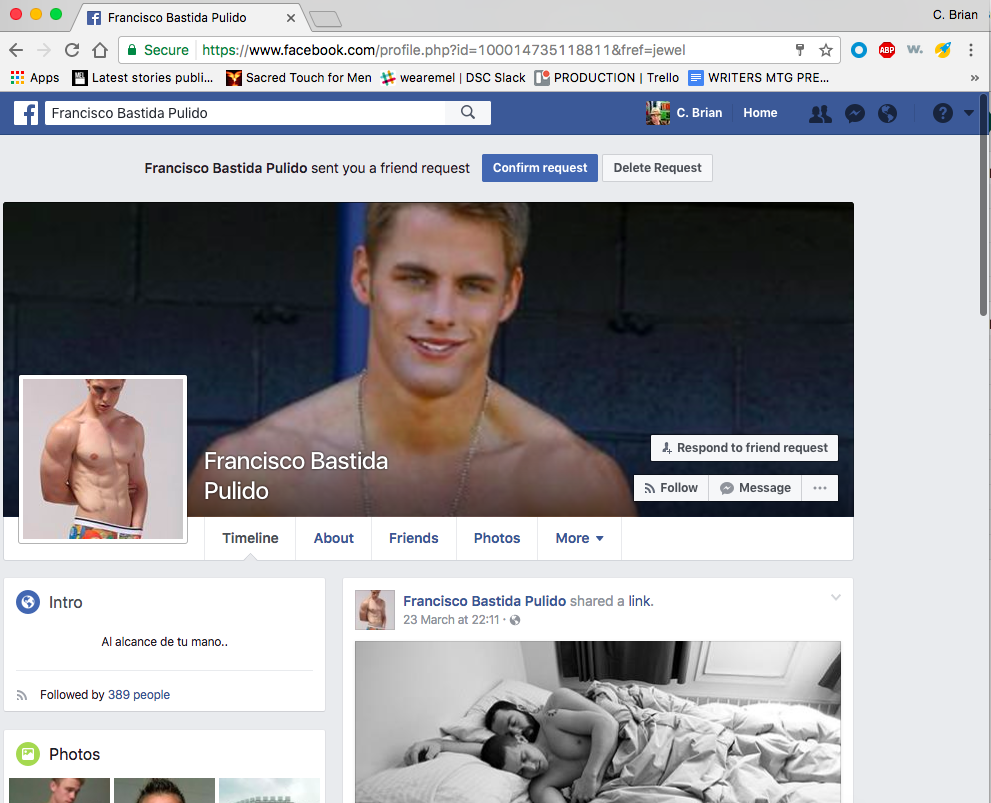 IMAGE: Check content of the person who sent you Friend request. Photo was taken from Mel Magazine
Look at your mutual friends:

If you see that you have some mutual friends, don't immediately accept their request. You also need to check who these mutual friends are because some of them might be just random people you don't know very well. 
Image: Don't accept friend request if you don't know them. Screenshot taken on August 18, 2019
Engage with the person's posts first:

Check the person's posts, comment on a random piece of content they've shared, and see if they respond. A person who engages with you has a great potential to help increase your reach, but if that person doesn't respond, then chances are they will only bring your account down by killing your

Facebook EdgeRank

. 
Check your Messenger:

Keep in mind that you don't need to be friends with a person on Facebook to connect with them on Messenger. Perhaps the person who sent you a friend request also sent you a message on Messenger, so check your

Message Requests folder

, the one beside your Recent folder. Make it a point also to clean out this other folder since there could be spam messages and bots there.
Don't pitch immediately:

Once you find that the person's friend request is worth accepting, don't do your sales pitch immediately. You'll get unfriended or blocked, and the worst part is that the person can report you as a spammer. Believe it or not, there are people who are very sensitive to sales pitches. 
These are just some guidelines in dealing with friend requests so you can manage your Facebook profile better. It's also important to determine the intention of your potential friend. Some people add you because they are building their followers and likes count and expanding their network, such as business owners and marketers, while some people are genuinely interested in you or are inspired by your content. 
They could be product distributors, representatives of some companies, MLM recruiters, or just regular people. The key is to qualify them first before accepting their friend request. Oftentimes, you may need to turn to Messenger for this since you won't really know their intentions until you talk to them. Messenger is also a useful tool in developing relationships, regardless of whether they are your Facebook friends or not.
Manage your Facebook profile by managing friend requests
Remember that once you accept a friend request, you will have a hard time deleting it especially if the person is active on Facebook. If you sent the friend request, that's a different story. You can always cancel it if you don't get a response within 48 hours.
All I'm talking about is that building your network doesn't mean adding anyone you see on Facebook or accepting every friend request you receive. You will have to go for quality instead of quantity when it comes to Facebook friends. Remember, it's better to have 200 Facebook friends who engage with you, rather than have 2,000 friends who don't.